SUN, SEA AND SERENITY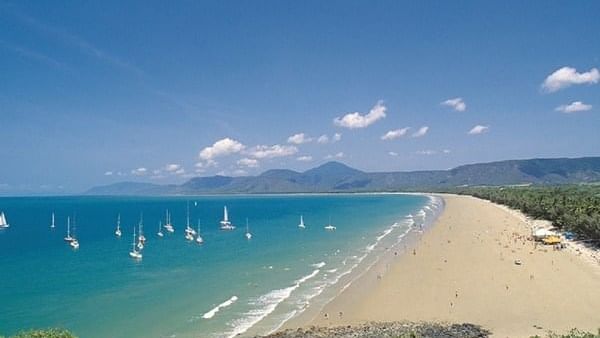 In Port Douglas we love our spring weather, which provides spectacular conditions to venture out into the natural beauty the area has to offer. As the jewel in the crown of the tropical north, Port Douglas is a destination for the modern explorer providing endless activities for you and your family this September school holidays.

Queensland is 'Good to Go' for Queenslanders, which makes this an ideal time to explore the beautiful locations we have in our own backyard. Flights from Brisbane, Gold Coast and the Sunshine Coast are on sale for as low $150.00pp return, so why would you not come?

School holidays are synonymous with fun times and quality family bonding, much like Port Douglas. With a diverse list of family-friendly things to do, ranging from feeding crocs at Hartley's Crocodile Adventures, to visiting the iconic Great Barrier Reef, you'll be sure to create lasting memories for you family for years to come!

1. Tour the Reef

Venture out to one of Australia's most popular tourist destinations and marvel at the abundance of beauty this Natural Wonder of the World has to offer. Snorkel, swim and be immersed in an educational and unforgettable experience that will open curious eyes to the variety of underwater flora and fauna we have so close to home.

2. Explore the oldest rainforest on earth

Thought to be over 180 million years old, the Daintree Rainforest is as vast as it is majestic and warrants your undivided time to experience. Visit the Discovery Centre on arrival and enjoy an interactive presentation on the Daintree and its history. Complete your visit at the Cape Tribulation Beach House where the whole family can enjoy a bonfire late into the evening.

3. Feed a Croc

At first, this may not seem like the most family-friendly activity, but safety AND fun is at the heart of everything they do at Hartley's Crocodile Adventures. How often have you had the chance to hand-feed one of the oldest and deadliest apex predators? So why not round up the troops and put this at the top of your to-do list whilst in Port Douglas. Alternatively, if the kids (or you) aren't up for the thrill of feeding Old Snappy his dinner, you can enjoy one of the more relaxed activities at the park, including a boat ride on Hartley's Lagoon, an educational wildlife presentations, or a self-guided walk.

4. Take a night (or several) off cooking

Treat yourself and the kids to some of the best dining experiences that Port Douglas has to offer, with a variety of cuisines and options available to please even the fussiest of eaters. Hemmingway's Brewery embodies the vibrancy of Port Douglas and here you can sit by the harbour and enjoy the local seasonal menu, accompanied by stunning views and some of Queensland's best brews. Or why not sample some of the region's best Seafood, Japanese cuisine or Thai restaurants that are sure to tantalize your taste buds?

Queensland is 'Good to Go' and there is no better time than now to rediscover what's in our backyard. We cannot wait to welcome you to the playful Pullman Port Douglas Sea Temple Resort & Spa, see you soon!