Blossoming Love: Spring Weddings at Pullman Port Douglas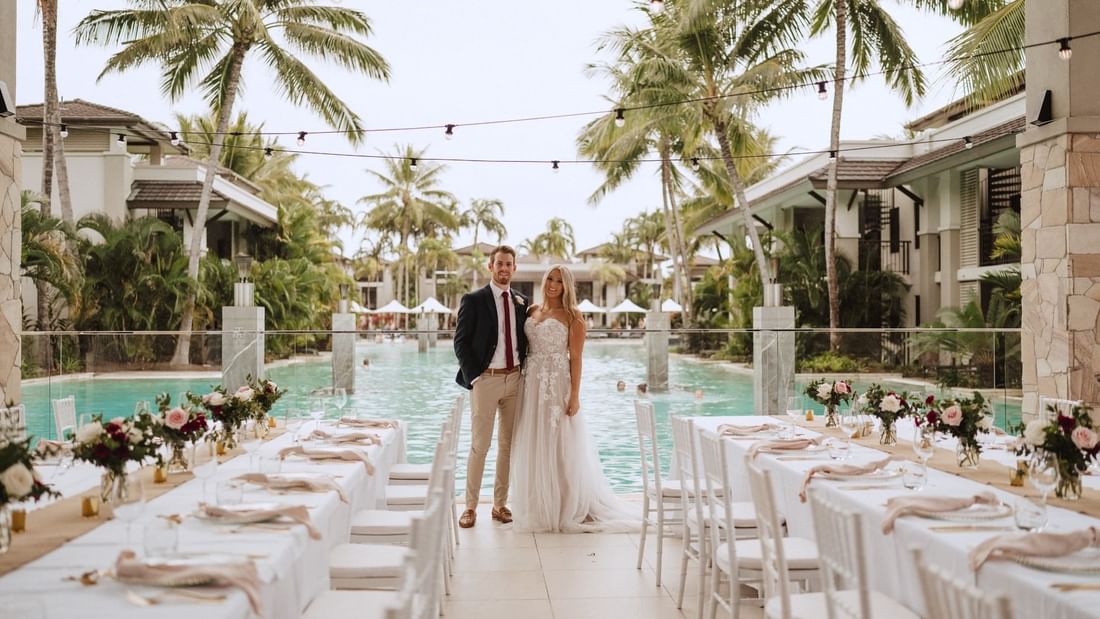 As the flowers bloom and the gentle warmth of spring fills the air, love is in full swing at Pullman Port Douglas. Nestled in the heart of the picturesque tropical paradise of Port Douglas, our luxury resort provides an idyllic backdrop for your dream spring wedding. With the vibrant colors of nature and the serene ambiance, Pullman Port Douglas is the perfect setting to celebrate your love. In this article, we'll take you on a journey through the enchanting experience of spring weddings on our stunning property.
The Perfect Season for Love: Spring is a season that symbolizes renewal, growth, and the beauty of new beginnings. What better time to start your journey together as a couple than amidst the lush, vibrant landscapes and pristine beaches of Port Douglas? The moderate climate and clear skies make it an ideal choice for an outdoor wedding. The breathtaking beauty of spring complements your special day, creating memories that last a lifetime.

Scenic Wedding Venues: At Pullman Port Douglas, we offer a range of picturesque venues to choose from, each offering a unique atmosphere. You can exchange your vows on the golden sands of Four Mile Beach with the Coral Sea as your backdrop or opt for a garden wedding surrounded by lush tropical greenery. For an intimate gathering, our poolside terrace is a perfect choice. Our team of experienced wedding planners will work closely with you to select the perfect venue to match your vision.

Expert Wedding Planning: Planning a wedding can be a daunting task, but at Pullman Port Douglas, our dedicated wedding coordinators are here to ensure that every detail is taken care of. From selecting the right menu to choosing the perfect flowers and decorations, we are committed to making your day as stress-free as possible. We'll help you create a customized wedding package that caters to your desires, so you can focus on cherishing each moment.

World-Class Catering: Pullman Port Douglas takes great pride in its culinary offerings. Our talented chefs use the freshest, locally sourced ingredients to create a delectable menu tailored to your preferences. From elegant canapés to gourmet three-course dinners, your guests will be treated to a feast that matches the beauty of the surroundings.

Luxurious Accommodations: Your guests can enjoy the comfort and luxury of our spacious accommodations, from stylish rooms and suites to fully equipped apartments. The resort offers an array of amenities, including a spa, lagoon-style pools, and access to the Great Barrier Reef for pre- or post-wedding adventures.

Activities for Everyone: Port Douglas is a destination that offers something for everyone. Whether your guests want to explore the Great Barrier Reef, stroll through the Daintree Rainforest, or simply relax on the beach, there are plenty of activities to keep everyone entertained during their stay.
Spring weddings at Pullman Port Douglas are a harmonious blend of natural beauty, luxury, and warm hospitality. With our stunning venues, expert planning services, and exceptional catering, your special day will be everything you've ever dreamed of. The backdrop of Port Douglas' natural wonders, combined with the elegance of Pullman, ensures that your spring wedding will be a celebration to remember. Contact us to begin planning your unforgettable spring wedding at Pullman Port Douglas, where love blooms as beautifully as the season itself.