MEET THE TEAM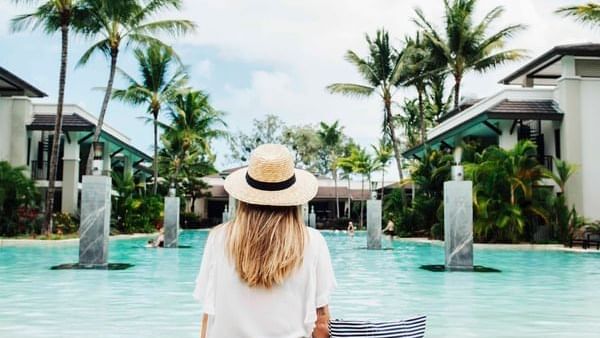 Tania Baker
Vie Spa Manager




What is your role at Pullman Port Douglas?
Ensure our guests feel harmonious and rejuvenated in a peaceful environment.

Highlight in your career?
Lucky to have worked in some of Australia's most beautiful day spas. From the snow, to the Whitsunday Islands and now here in the wonderful tropics.

If I had 5/30/60 minutes:
5 mins - check my phone, 30 mins - catch up with a phone call to family & friends, 60 mins - get a massage or pedicure.

Weekend adventure?
Daintree Rainforest, Mossman Gorge & Cape Tribulation as they're just a stone's throw away from Port Douglas.

Favourite restaurant?
Sassi's Restaurant & Bar. They have delicious pizza & outstanding service!

Local's secret?
Flagstaff Hill Lookout - an accessible walking track that can start from Rex Smeal Park and has sweeping views of Four Mile Beach.

If you could be a superhero or have a super talent what would it be?
I would be Wonder Woman!

Harry Ha
Rooms Division Manager




What is your role at Pullman Port Douglas?
Guest satisfaction enthusiast, tour extraordinaire and food recommender!

Highlight in your career?
Being awarded second in place for Employee of the Year before Accor acquired Mirvac Hotels.

If I had 60 minutes:
Pop into Vie Spa for a Hot Stone Healing treatment to get the blood flowing and release tension in the back and shoulders!

Weekend adventure?
Quicksilver pontoon cruise out to Agincourt reef. The perfect spot to snorkel, dive or just relax and take in the exotic marine life.

Favourite restaurant?
Hemingways Brewery for the best burgers in town!

Local's secret?
A picnic lunch on Four MIle Beach.

If you could be a superhero or have a super talent what would it be?
I am already a Super Dad!

Allan Horne
Business Development Manager




What is your role at Pullman Port Douglas?
Bringing in the business! Securing Conference and Events revenue and working with clients to create memorable conference experiences.

Highlight in your career?
I have two. Securing a $500,000 accommodation block that I had worked for months on, and also meeting fellow Scotsman Andy Murray when he was staying in our hotel.

If I had 5/30/60 minutes:
5 mins - tune out with a random game on my phone. 30 minutes - catch up on the days news and see whats happening back over in Scotland. 60 minutes - with two young kids I never have 60 minutes to myself, and now that Game of Thrones is finished I need a new show to get stuck into.

Weekend adventure?
I'm still to discover all that Tropical North Queensland has to offer, but I'd be outback somewhere camping with the family.

Favourite restaurant?
Salsa Bar & Grill, it combines my two favourite things, beer and meat!

Local's secret?
I still feel too new to the region to have a local's secret - I'm still discovering them.

If you could be a superhero or have a super talent what would it be?
I'd want to fly! Being able to soar over the Great Barrier Reef would be simply stunning, and think of the money you'd save on airfares!