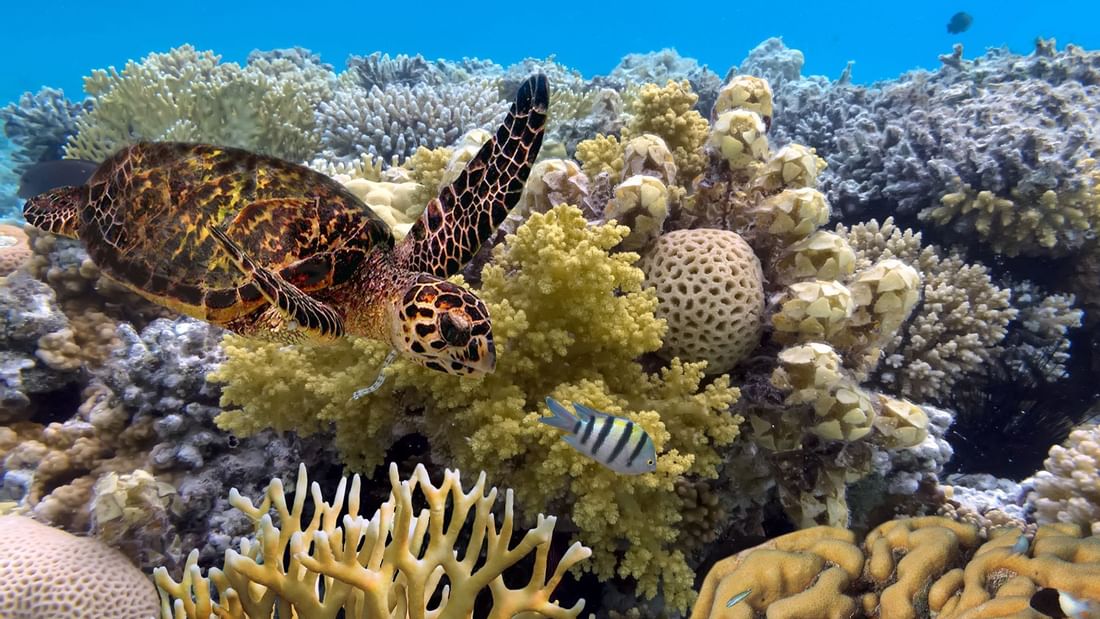 Discover the awe-inspiring wonders of the Great Barrier Reef, an esteemed World Heritage Listed site renowned for its extraordinary natural beauty. Nestled within the exquisite Pullman Port Douglas Sea Temple Resort and Spa, you'll find yourself just moments away from this incredible marine ecosystem. Recognized as one of the seven natural wonders of the world, the Great Barrier Reef beckons with its captivating allure and diverse marine inhabitants.
Immerse yourself in a world of vibrant coral reefs and exotic marine life, as this captivating attraction awaits just a stone's throw away from our resort. Indulge in a myriad of exhilarating experiences, from snorkeling through dazzling coral gardens to embarking on unforgettable diving adventures. With our unparalleled proximity to the Great Barrier Reef, you'll be spoiled for choice with an extensive selection of captivating snorkeling and dive sites.
Prepare to be enchanted by the sheer magnificence of this underwater paradise, as you encounter an array of colorful fish, graceful sea turtles, and enchanting coral formations. Dive deep into crystal-clear waters, where an underwater realm of beauty and tranquility unfolds before your eyes. Whether you're a seasoned diver or a novice snorkeler, the Great Barrier Reef promises an unparalleled adventure that will leave you with lifelong memories.
After an exhilarating day exploring the depths of the Great Barrier Reef, return to the comfort and luxury of Pullman Port Douglas Sea Temple Resort and Spa. Our resort offers a tranquil oasis where you can unwind and rejuvenate amidst breathtaking tropical surroundings. Indulge in world-class amenities, savor delectable cuisine, and bask in the serenity of our luxurious accommodations.
Embark on an extraordinary journey to one of the world's most remarkable natural wonders. With the Great Barrier Reef on your doorstep, the Pullman Port Douglas Sea Temple Resort and Spa provides the perfect gateway to an unforgettable underwater adventure. Experience the magic and magnificence of this extraordinary marine wonderland, where nature's beauty knows no bounds.