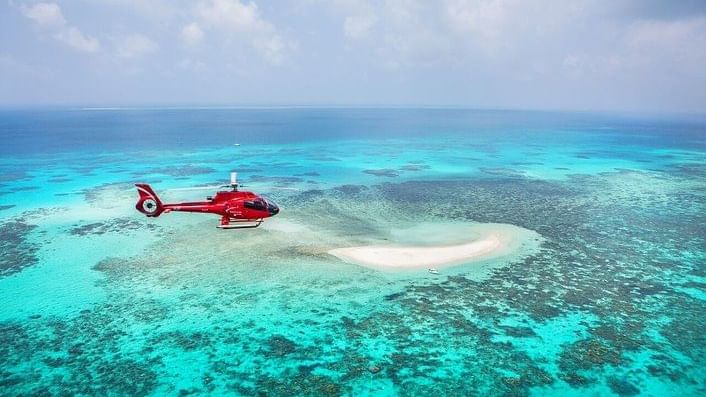 Experience the ultimate rockstar treatment by embarking on a spectacular helicopter ride to the secluded haven of Vlasoff Cay, courtesy of the renowned Nautilus Aviation or GBR Helicopters. Prepare to be whisked away on a journey of unparalleled luxury and natural beauty, as you soar above the mesmerising expanse of the Great Barrier Reef.
Your adventure commences with a thrilling helicopter flight, granting you breathtaking views of the coral-studded wonder that is the Great Barrier Reef. Behold the kaleidoscope of colors beneath you as you traverse over this world-famous marine ecosystem. The helicopter ride itself is an awe-inspiring experience, allowing you to marvel at the grandeur of nature from a vantage point few have the privilege to witness.
Your destination is the pristine sanctuary of Vlasoff Cay, nestled in the heart of the Great Barrier Reef. Touching down on this picturesque sand cay, you will step into a realm of exclusivity and serenity. The pure white sand beckons you to unwind and indulge in the tranquility of this remote paradise. Engage in beachcombing, seeking hidden treasures amidst the sands, or bask in the gentle caress of the shallow, crystal-clear waters that surround the cay. Alternatively, immerse yourself in the enchanting underwater world by snorkeling right off the cay's shores, unveiling the magic beneath the surface.
To enhance your idyllic experience, a gourmet picnic hamper awaits, promising a culinary delight amidst the natural wonders. Savour delectable treats while sipping on sparkling wine, perfectly complementing the mesmerizing surroundings.
As your unforgettable sojourn on Vlasoff Cay draws to a close, the helicopter stands ready to carry you back to Cairns, completing your journey with elegance and ease. The return flight allows you to cherish one last glimpse of the Great Barrier Reef, etching lasting memories of this extraordinary escapade.
Whether seeking a romantic excursion, a luxurious adventure, or a unique escape from the ordinary, the helicopter ride to Vlasoff Cay offers an exclusive experience that remains unrivaled. Let Nautilus Aviation or GBR Helicopters be your guides to this exceptional sanctuary, where the splendors of nature converge with the indulgences of opulence, creating a momentous voyage that will forever hold a special place in your heart.