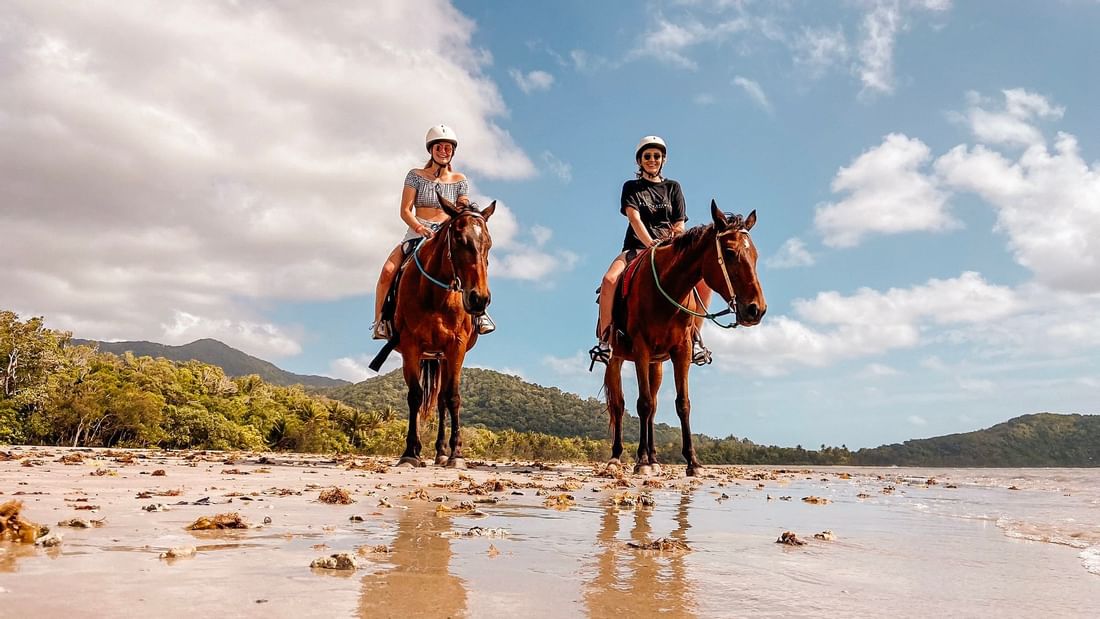 Address and information
3831 Cape Tribulation Road 4873 Cape Tribulation Australia
Unravel the wonders of Cape Tribulation, Australia, in the most captivating manner through the enchanting Cape Trib Horse Rides. As the premier choice for exploring this extraordinary region, we offer an experience like no other, where you'll witness the magnificent convergence of the Daintree Rainforest, The Great Barrier Reef, and the pristine Myall Beach.
Set off on a remarkable journey that fuses the allure of nature's finest creations, providing an unmatched perspective on the unique meeting point of these diverse ecosystems. Traverse through the awe-inspiring Daintree Rainforest, a haven of biodiversity and ancient wonders, where lush greenery and exotic creatures abound. Gaze in awe at the majestic beauty of The Great Barrier Reef, a world heritage site that boasts a kaleidoscope of marine life and vibrant coral formations. Finally, behold the mesmerizing vistas of Myall Beach, where sparkling waters meet soft sands, creating an idyllic coastal paradise.
At Cape Trib Horse Rides, we cater to all riders, ensuring that everyone can savor this extraordinary experience regardless of their skill level. For those seeking a thrilling pace, gallop and trot through the landscapes, immersing yourself in the excitement of the journey. Our horses are well-trained and gentle, making it a safe and exhilarating experience for all.
Alternatively, if you prefer a more leisurely exploration, walking alongside your trusted steed, our attentive guides will be more than happy to accommodate your preference. Your satisfaction and enjoyment are our top priorities, and we strive to make your horse ride an unforgettable and personalised adventure.
As you embark on this one-of-a-kind escapade with Cape Trib Horse Rides, you'll forge a deep connection with nature, an experience that will leave a lasting impression on your heart and mind. The harmonious coexistence of rainforest, reef, and beach will weave a tapestry of memories, making your visit to Cape Tribulation truly exceptional.
So, unleash your spirit of adventure and join us for an expedition that celebrates the splendors of nature's finest creations. Cape Trib Horse Rides eagerly awaits to introduce you to the breathtaking beauty of Cape Tribulation, a place where the essence of Australia's natural heritage flourishes in all its glory.